NEW RELEASE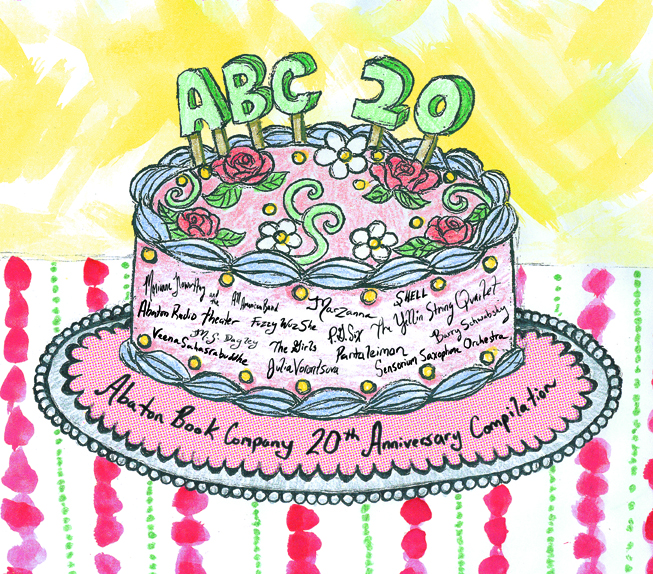 Artists: Various
ABC 20 (20th Anniversary Compilation)
Purchase this CD in the U.S. here:
Abaton Book Company is proud to announce the release of ABC 20, a compilation celebrating the 20th anniversary of our publishing house and record label. Founded by Mark Dagley, an artist and musician, and Lauri Bortz, a playwright and children's novelist, Abaton began in Newton, New Jersey, where the couple had relocated from Manhattan, in search of lower rent and greater creative output. There they began producing books (a boxed set of artist's editions and volumes of Bortz's plays) in 1997. The next year, Abaton launched a musical division after meeting Marianne Nowottny, a talented local teenager whose work they first presented as an illustrated chapbook, following up with her unique sound—described in the New York Times as "an ethereal voice from an inner Neverland"—on cassette, vinyl and CD. With Nowottny in tow, Bortz and Dagley moved to Jersey City in 2001, where Abaton headquarters are situated to this day.
Abaton has continued to collaborate with Nowottny in a variety of ways, but many other musicians, composers and singer-songwriters have been added to its roster and a selection of them are featured on this compilation. The label highlights an international array of female vocalists, presenting Hindustani classical music by the world renowned Veena Sahasrabuddhe, the Russian bard stylings of Julia Vorontosova and English psych-folk from multi-instrumentalist Pantaleimon. Marianne Nowottny, of course, can be heard on this release, as can her alter ego Marzanna, her adolescent girl punk duo, SHELL, and her All American Band. Nowottny accompanies poet Barry Schwabsky on a spoken word track and Sensorium Saxophone Orchestra on a Beatles cover. Her collaborations with Lauri Bortz—the theme song from the film Kung Fu Kitty and audio dramas performed by Abaton Radio Theater—are also included. Elliott Sharp's chamber opera, based on a play by Bortz, has been excerpted, with an overture by The Yellin String Quartet and an aria delivered by Joan Wasser. Dagley is here, too, in a variety of incarnations: on solo classical guitar, in vintage punk rock from his Boston band the Girls, with singing cats, and as the Flaming Manholes, backing P.G. Six on formerly limited release material.
An overview of Abaton Book Company's 20-year history, written by award-winning author John Strausbaugh, is printed in the eight-page booklet that can be found in this CD digipak.
Track listing, Original release format
1. Marianne Nowottny What Would I Do?, CD
2. All American Band Ain't Gonna Be Pretty, 7" Vinyl
3. The Yellin String Quartet A Modicum of Passion Overture, CD
4. The Yellin String Quartet featuring Joan Wasser Fais Dodo, CD
5. Marianne Nowottny Fountain of Youth, CD
6. M.S. Dagley Folia, CD
7. SHELL Centipedes Have Needs, Too, CD
8. SHELL Maypole, 7" Vinyl
9. P.G. Six & the Flaming Manholes You Know the Signs, 7" Lathe cut
10. Marianne Nowottny Kung Fu Kitty, CD
11. Abaton Radio Theater Baby (excerpt), CD
12. Marianne Nowottny Afraid of Me, CDR
13. Julia Vorontsova Cities & Countries, CD
14. Marzanna Cognac, CDR
15. Fuzzy Wuz She Frick It!, 7" Vinyl
16. The Girls Cubist Grid, CD
17. Pantaleimon Tall Trees, CDR
18. Barry Schwabsky & Marianne Nowottny Crickets, Inc., (unreleased)
19. Veena Sahasrabuddhe Vande Mataram, CD
20. Julia Vorontsova Illusions Are Real, 7" Lathe cut
21. Abaton Radio Theater Lobby (excerpt), CD
22. Sensorium Saxophone Orchestra Tomorrow Never Knows, 7" Vinyl
23. Marianne Nowottny Our Day Will Come, 2xCD
24. Marianne Nowottny Sequin Serenade, 7" Vinyl
Copyright © 1997-2017 Abaton Book Company. All rights reserved.