, two illustrated tragicomedies by Lauri Bortz. Included in this volume are
, Ms. Bortz's first published works (1997).
Lauri Bortz began her New York career producing, co-writing and starring in
Sordid Lives
, a live East Village soap opera performed weekly at Pyramid Club. Bortz left the show to pursue playwriting. Her first full-length drama was adapted for film and screened at The United Nations' Dag Hammarskjold Theater as part of a program hosted by the Mercury Theatre's Ruth Warrick and featuring Prince Carl Bernadotte of Sweden. Several one-acts by Bortz, including an early version of
Fixed
, were subsequently produced by Manhattan theater companies.
To-Night at 8:00
explores a bizarre yet familiar world imbued with mutant social codes and jolted by rude awakenings. You are certain to find yourself both wildly amused and gnawingly perplexed while under the influence of Lauri Bortz's keen wit and intellect.
Illustrating this book are twenty-four drawings by New York artist J.D. Fleishman, who has had numerous exhibitions in the United States and Europe. Fleishman is a former adjunct professor of graphic arts at the Parsons School of Design. Her work is included in the collections of the Museum of Modern Art, NYC and the Arnhem Museum in Holland.

To-Night at 8:00 has been called: "epic in its weirdness" by John Strausbaugh, New York Press, and "startling, satirical, truly experimental" by Professor Leonard Ashley, Bibliotheque d'Humanisme et Renaissance Volume LX 3 (1998). This book retails for fifteen dollars and is currently available for purchase through Abaton Book Company and Amazon.com.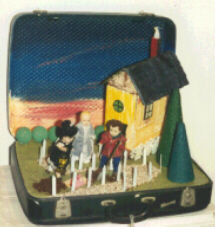 Lauri Bortz's set designs for A Modicum of Passion...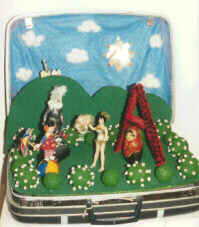 and Fixed.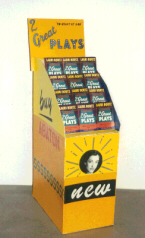 8:00 Sharp
Avant-garde musician and composer Elliott Sharp scored a chamber opera based on A Modicum of Passion, featuring the Yellin String Quartet and starring Devorah Day, Ben Miller, Eric Mingus and Joan Wasser. A Modicum of Passion: The Opera.........was released on CD in 2004.
Fixed for Time
A Bortz/Dagley stopmotion animation short based on Fixed was screened at The Hudson County Film Festival in 2003 at The Jersey City Museum.
---
PLAYBORTZ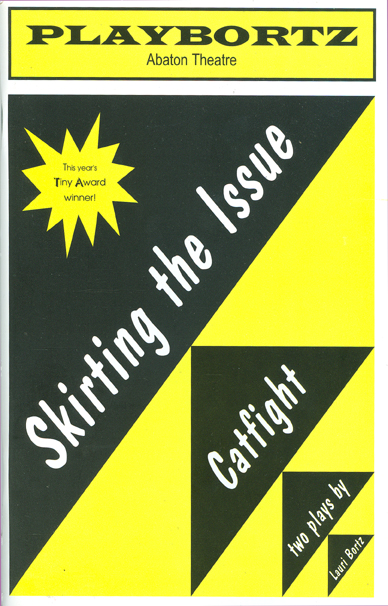 This handsome volume contains two tragic farces, Skirting the Issue and Catfight, both of which explore themes of gender in language, role-playing, role modeling, and the education of the American youth. The book is profusely illustrated with vintage advertisements that have been appropriated and altered by the playwright and Brazilian-born artist Roberto Cabot. PLAYBORTZ's cover image is based on a painting by renowned visual artist/musician Mark Dagley.
Read John Strausbaugh's rave review of PLAYBORTZ in New York Press
Skirting the Issue was the recipient of 2001's Pen and Brush Best Play Award. Several months prior, the Washington Square Playwrights presented a staged reading of this play at the Jefferson Market branch of the New York Public Library. Lauri Bortz costumed, directed and co-starred in this reading with Nora Breen, Mark Lien, and Melissa McNeeley. A repeat performance was staged at Bowery Poetry Club in 2002.
A radio version of Skirting the Issue, adapted and directed by DJ Thurston Hunger of KFJC FM and featuring station staffers, aired on March 5th, 2001. Professor Peter Appelbaum directed a reading of the play at the 2001 JCT Conference on Curriculum Theory and Classroom Practice in Dayton, Ohio.
PLAYBORTZ and its predeccesor,

To-Night at 8:00

have been included on the syllabus of an NYU writing workshop, either sandwiched between Poe's

The Fall of the House of Usher

and Schnitzler's

Hands Around

or preceded by Beckett's

Waiting for Godot

. Both books have been recommended by

The Kansas Anarchist

.

Order PLAYBORTZ for $15 from Abaton Book Company or through Amazon.com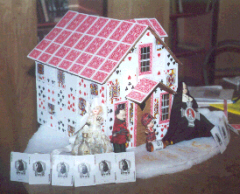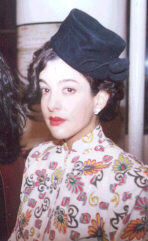 Lauri Bortz and her set design for Skirting the Issue