A Modicum of Passion: the Opera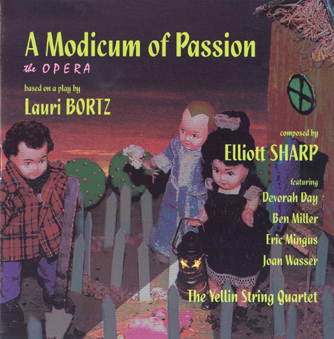 Composed by Elliott Sharp, libretto by Lauri Bortz

Featuring Devorah Day, Eric Mingus, Ben Miller, Joan Wasser and The Yellin String Quartet

CD with eight-page booklet

"In an America of the near future, or perhaps the recent past, where men can only wed others of their kind, and women are relegated the tasks of breeding and housekeeping, one happily married couple, Jakob Blythe and Tobias Folwen, have their bliss briefly interrupted." Thus begins the tragic-comic opera A Modicum of Passion, based on the play by Lauri Bortz, with a musical score composed and conducted for string quartet by Elliott Sharp. This release features an all-star cast of vocalists: jazz sensation Devorah Day, punk prince Ben Miller (founding member of Destroy All Monsters), R&B crooner Eric Mingus and indie rockette Joan Wasser, plus a fabulous four musicians--Stephanie Griffin, Conrad Harris, Amy Kimball, Garo Yellin--who are accomplished in all of these genres and more.

A Modicum of Passion is a woeful tale of depraved indifference. In this microcosm, empathy is shattered by surrealistic time/space, and love fails to conquer much, if anything at all. The story unfolds in classic operatic format as Elliott Sharp's expressionism takes eerily beautiful twists and turns. This is Sharp at his most lyrical and gothic: the hummable melodies will no doubt surprise his ardent followers. But, loveliness aside, Lauri Bortz's darkly absurdist libretto has found its perfect musical match.

The CD release party for A Modicum of Passion took place December 12th, 2004, at Bowery Poetry Club in Manhattan. A concert performance of the opera was given with most of the original cast, conducted by Elliott Sharp.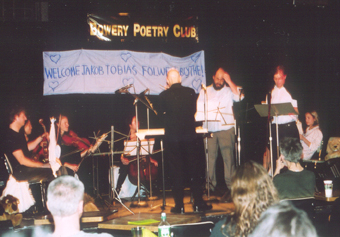 A Modicum of Passion
was given a #1 pick by Joe Harrington in the
Village Voice
's 2004 Pazz & Jop music critics' poll. In Earshot Media's January 2005 report,
A Modicum of Passion
was 101 of 200 records favored by Canada's biggest college radio stations. The opera spent the entire winter of '05 on the charts of WXDU, Duke University's station. It also received airplay on KDVS (UC Davis) and KZSU (Stanford) in California.
"Jersey City's Lauri Bortz is a well known playwright and the founder of Abaton, the book and music publishing imprint on which this short opera is released. Set in a future urban America where women have lost most of their power, the plot finds a male couple waiting for their first heir, whose blissful relationship undergoes "complications" with the arrival of Minette, a female infant at first rejected by one of the men. Things change, until the finale.. well I won't reveal the plot here (unfortunately, the libretto is not included in the CD, but it is available from Abaton). Elliott Sharp's score calls for the Yellin string quartet and singers Devorah Day, Ben Miller, Eric Mingus and Joan Wasser, and its harmonies are less strident than usual, though you wouldn't say that while listening to Miller and Mingus's hopeless, oblique river of symbolic fake grief, the concluding "Here today, gone tomorrow". Elsewhere, like in the magnificent interlude "Blue by who?", the New Yorker's lines are played by the Yellin quartet with sapient sensitivity, a kind of cross between Bela Bartók and post-Schoenbergian bitter indulgence, very pleasant to the ears and not too heavy for the data storage capacity of the brain."–MR Paris Transatlantic.com
"One of the things that impressed me most about the whole piece--other than the story, which I like for a lot of the usual arbitrary/personal taste reasons--is the tightness of the overall structure from beginning to end. To work well, a story like the one you've told has to have its few crucial plot and character elements presented with enough room for each to breathe, but not so much that any become tedious. You did a good job with that. On the way home from the live performance, I commented that it reminded me a lot of the structure used on some of the better-realized episodes of Roald Dahl's Tales of the Unexpected, an anthology show from the late 70s/early 80s based on Dahl's (and a few others') stories. I guess that's sort of out of left field, but it was an immediate response that I had." Art critic Jeff Edwards
Purchase the CD A Modicum of Passion via Paypal for $15.00 postpaid worldwide.