Marianne Nowottny and the Sensorium Saxophone Orchestra
Tomorrow Never Knows/Strawberry Fields Forever
NEW RELEASE
7" 45 RPM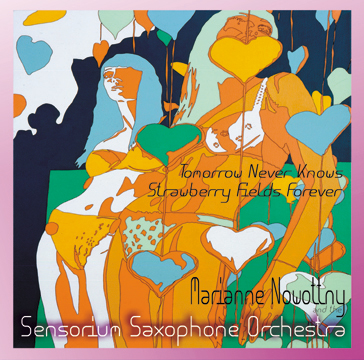 Abaton Book Company is pleased to announce the release of a new 7" 45 RPM by Marianne Nowottny and the Sensorium Saxophone Orchestra.
The Sensorium Saxophone Orchestra was formed in 2008 by Ben Miller, ex-member of Destroy All Monsters, prior touring guitarist with the Glenn Branca Ensemble. Sensorium has featured as many as sixteen different saxophones—alto, baritone, bass, soprano and tenor—which are often joined by other instruments. On this release sax, bass guitar and percussion accompany avant-pop singer Marianne Nowottny, performing two Lennon-McCartney songs. Nowottny's smoky vocals weave through Miller's provocative arrangements, uncovering and magnifying dark sonorities previously unheard on these Beatles classics. Christopher Weingarten of The Village Voice wrote that the Sensorium Saxophone Orchestra is "fully embracing the spectral melodies and otherworldly timbres that emerge in multi-instrument settings" while Kenneth Goldsmith, MoMA's first poet laureate, has said of Marianne Nowottny: "she's following her own path, slowly honing her vision to perfection."
This recording brings these artists together for the first time, in a limited edition 45 on transparent green vinyl with a picture sleeve by artist Lisa Ruyter.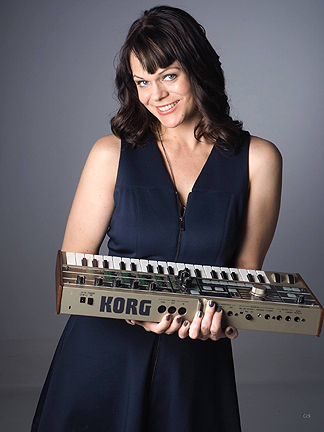 About the artists:
Marianne Nowottny has created some of the boldest music of her generation. Her deep, voluptuous voice has been compared to that of Nico, Patty Waters and Om Kalsoum. Nowottny has released numerous CDs, most notably her 1999 debut Afraid of Me, its 2001 follow-up Manmade Girl and her 2007 solo album What is She Doing. These recordings showcase her experimentation with different genres: jazz, blues, pop, rock, rap and, at the opposite end of the spectrum, classical Chinese and Indian music. They've received glowing reviews in The New York Times, WIRE, Billboard and Plan B, amongst many other publications. Recently Nowottny provided songs to the Abaton Radio Theater CD Lost & Found: Three Works by Rosalyn Drexler, instrumental accompaniment to Provocative Dramas by Arch Oboler, the original soundtrack to Lauri Bortz's feature film Kung Fu Kitty , music and vocals for her collaboration with poet and art critic Barry Schwabsky. Current projects include a 12" vinyl release, soon to come from Feeding Tube Records, and the soundtrack for Flood & Drought, an ongoing series of documentary shorts addressing environmental issues in the United Kingdom. Marianne Nowottny is also an accomplished visual artist whose phantasmagorical paintings have been exhibited in New York galleries. She has illustrated books, created artwork for CDs, received portrait and mural commissions.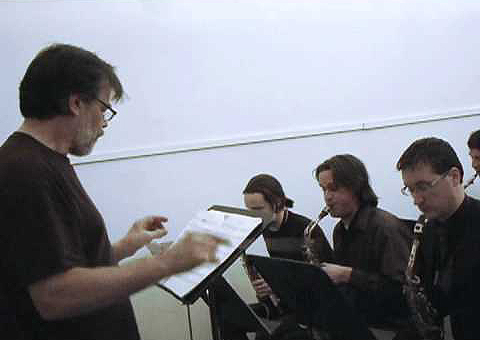 Ben Miller, founder of the Sensorium Saxophone Orchestra, has been a member of several Michigan bands: Sproton Layer, Destroy All Monsters and Nonfiction. Destroy All Monsters, still a cult favorite, was a big part of Detroit's punk scene, which featured such seminal bands as the Stooges and MC5. Miller engineered the early releases of Bulb Records, an avant-garde label, which were recorded in his Ann Arbor studio. Miller studied at the School of Contemporary Music in Boston and obtained a BFA at Columbia College Chicago. He hails from a musical family and is identical twin to Laurence Miller, percussionist on this release, who also performed with Destroy All Monsters. They are younger brothers of Roger Miller, member of the Boston-based Mission of Burma. Ben has collaborated with both brothers as M3 and with Roger as M2. Recently Ben Miller toured overseas with the Glenn Branca Ensemble as one of their guitarists. He currently performs solo with his self-deconstructed multiphonic guitar and also conducts and composes for the Sensorium Saxophone Orchestra.
Also appearing on this recording, Kevin Gosa, Josh Sinton, Benjamin C. Miller, David Swain and Kristin Olson
---
---
Purchase this vinyl recording in the US with postage here:
Purchase this vinyl recording with international with postage here:
---
Purchase Strawberry Fields Forever on iTunes:


Purchase Tomorrow Never Knows on iTunes:


Copyright © 1997-2015 Abaton Book Company. All rights reserved.