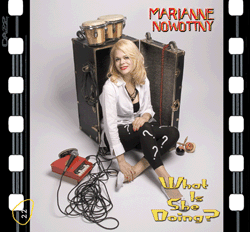 Abaton Book Company is proud to announce the release of What Is She Doing? by Marianne Nowottny. This is the artist's first full-length studio recording in over five years and her third album on the Abaton Book Company label.
Ms. Nowottny came to the attention of New York avant garde music and art circles in 1998, at the age of sixteen, with the release of Afraid of Me, described as "one of the most astonishing debuts ever" by New York Press. She has since released CDs on Camera Obscura, Foxy Digitalis, Barl Fire and Celestial Jars.
With the desire to record an album that was, in her own words, "as much Fleetwood Mac as Lil' Kim," Nowottny set out to construct a homemade R&B/pop CD. The resulting What Is She Doing? is packed with primitive electro beats, low budget keyboards, spacey electronics and Nowottny's own inimitable voice. This long overdue update serves as a travelogue of exotic themes, musical styles and textures adapted by the artist during her now decade-long career.
What Is She Doing? was engineered by Mark Dagley (Pothole Skinny, Hi Sheriffs of Blue, Girls) and features Ben Miller (x-Destroy All Monsters, Third Border) on saxophone.