Abaton Book Company
---
A Modicum of Passion

(the Opera)

Composed by Elliott Sharp, libretto by Lauri Bortz

Featuring Devorah Day, Eric Mingus, Ben Miller, Joan Wasser and The Yellin String Quartet

New CD with eight-page booklet from Abaton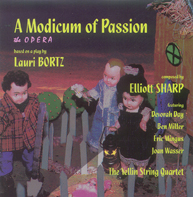 "In an America of the near future, or perhaps the recent past, where men can only wed others of their kind, and women are relegated the tasks of breeding and housekeeping, one happily married couple, Jakob Blythe and Tobias Folwen, have their bliss briefly interrupted." Thus begins the tragic-comic opera A Modicum of Passion, based on the play by Lauri Bortz, with a musical score composed and conducted for string quartet by Elliott Sharp. This release features an all-star cast of vocalists: jazz sensation Devorah Day, punk prince Ben Miller, (x-Destroy All Monsters), R&B crooner Eric Mingus and indie rockette Joan Wasser, plus a fabulous four musicians--Stephanie Griffin, Conrad Harris, Amy Kimball, Garo Yellin--who are accomplished in all of these genres and more.
A Modicum of Passion is a woeful tale of depraved indifference. In this microcosm, empathy is shattered by surrealistic time/space, and love fails to conquer much, if anything at all. The story unfolds in classic operatic format as Elliott Sharp's expressionism takes eerily beautiful twists and turns. This is Sharp at his most lyrical and gothic: the hummable melodies will no doubt surprise his ardent followers. But, loveliness aside, Lauri Bortz's darkly absurdist libretto has found its perfect musical match.
---
Purchase the cd A Modicum of Passion via paypal with any credit card for $15.00 postpaid worldwide.

Download the entire album, or just one track from iTunes:
---
The cd release and debut of A Modicum of Passion took place on December 12th at the Bowery Poetry Club. A concert performance of the opera was be given at 9:00 PM, followed by three more hours of incredible music. Featured acts included Third Border, Ben Miller's latest duo with Jena H. Kim of Butterknife Krush and Pothole Skinny, Jersey City's premier psychedelic band; with vocals by Devorah Day.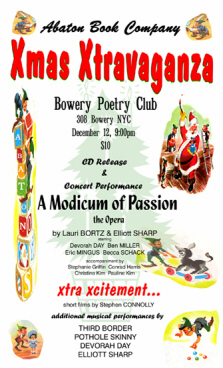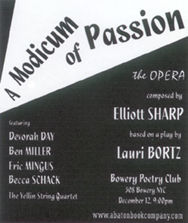 ---