Abaton Garage cordially invites you to girl and a gun, an exhibition of recent constructions, paintings and works on paper by New York artist Nora Griffin. This is the artist's first commercial solo exhibition.
Nora Griffin draws on an array of diverse sources, including film theory, constructivist art, the late works of Philip Guston and the unruly colored frame paintings of Howard Hodgkin. Working with a variety of mediums, she creates no-nonsense economical pieces which comment on the signs, markings and inherent codes found in abstract picture making. Griffin's approach to the fundamental physicality of how a painting is made and is painted is quite unique among artists of her generation.
For more information, contact Lauri Bortz or Mark Dagley at the email/phone number listed above. Directions via PATH can be found on our website. If traveling by car, please consult Mapquest rather than the gallery
---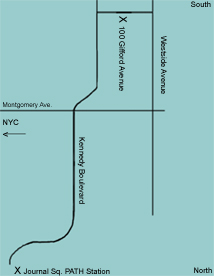 Directions
From NYC take the Newark-bound PATH train to Journal Square. Taxis are available on Kennedy Boulevard, directly in front of the station. The ride to Abaton Garage takes less than five minutes and costs approximately $7. If you prefer to walk, simply stroll down Kennedy Boulevard about 3/4 of a mile, until you reach Gifford Avenue. Then turn right; 100 is in the middle of the block.
---
---
Previous exhibitions 2004

Tom Warren, August ~ September 2004

Alix Lambert, September ~ October 2004

Bill Schwarz, October ~ December 2004


Previous exhibitions 2005

Paula Gillen, June ~ July 2005

Michael Gentile, July ~ August 2005

Christine Krol & P. G. Six, August ~ September 2005

James Biederman, October ~ November 2005

Roger Miller, November 20 ~ December 2005


Previous exhibitions 2006

Judith Fleishman, June ~ July 2006

HD Martinez, July ~ August 2006

Don Voisine, August ~ September 2006

Sharon Gal, October 8th ~ November 1st 2006

Michael Gentile, November 5th ~ November 30th, 2006

Sibyll Kalff, December 3rd, 2006 ~ January 7th, 2007


Previous exhibitions 2007

Stephanie Campos, May 6th ~ June 1st 2007

Mark Dagley, June 10th ~ July 7th 2007

Paula Gillen, July 8th ~ August 9th, 2007

Scott Freyer, August 12, ~ September 7th, 2007

Cora Cohen, September 9, ~ October 31, 2007

Christine Krol, November 4 – December 15th, 2007


Previous exhibitions 2008

John A. Patterson, July 13th ~ August 10th, 2008
---
Please visit the following Abaton Garage artists at their own websites


| Cora Cohen | Mark Dagley | Judith Fleishman | Michael Gentile | Paula Gillen |
---
---
Copyright © 1997-2008 Abaton Book Company. All rights reserved.